ROLE ··········· Creative Director
CREATED WITH ··· Mythology (studio)
CLIENT ········· A24
MADE IN ········ May 2019
A24 Public Access:


Turning billboards into
overnight public cinemas
In summer 2019, New York based independent entertainment company A24 wanted to create its first-ever national brand moment.

Thus we created "A24 Public Access": six minimally branded billboards across the country that became cinemas overnight, playing host to the movies, the areas and the fans that made A24 what it is today.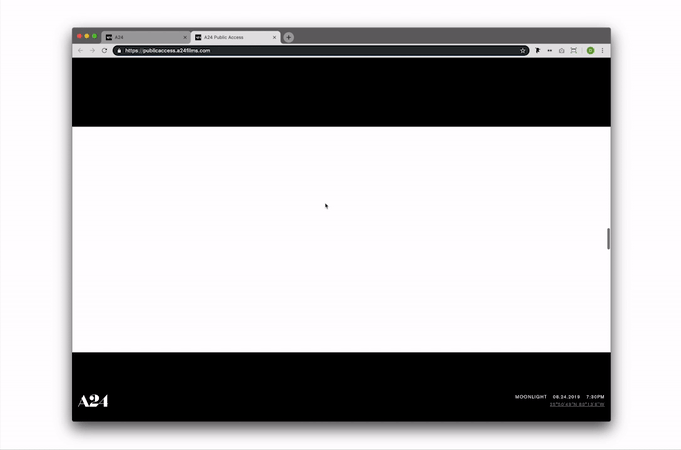 Lady Bird / Sacramento, CA 07.20
The Bling Ring / Van Nuys, CA 07.27
The VVitch / Ossipee, NH 08.06
Good Time / Queens, NY 08.10
The Spectacular Now / Athens, GA 08.17 Moonlight / Miami, FL 08.24
The billboards teased the events, donning only an A24 logo, and the date and time of the screening. The website gave an extra hint, showing the relevant aspect-ratio of the film as you scrolled through them, linking to the exact location on Google Maps. The locations were picked based on where the movies were made.


About



For a decade I have tried to help brands, artists and agencies resonate within the evershifting cultural currents that make up our contemporary lives. As the mediated landscapes shift by the second, it's often not enough to inflitrate the chatter: instead one has to define the conversation.

This is what I've aspired to do ever since joining Droga5 NY, in 2012, and continue to do so today in a freelance capacity with every project I take on; whether in service of studios, agencies, brands, products, musicians, film labels, fashion houses or otherwise.

As a Creative Director I am always creating in collaboration, with the written word as my executionary skill—while also sometimes operating as brand strategist, copywriter, researcher or art director.






CORE ROLES




1. CONCEPTING

Creating accessible and desirable ideas at the core of brands and campaigns.

2. PRESENTING

Communicating the ideas to creative teams, clients and stakeholders.

3. DIRECTING

Guiding, creative directing and casting those who make the idea a reality.





x





DISCLAIMER: NONE OF THE WORK ON THIS SITE COULD'VE BEEN REALIZED WITHOUT THE BRILLIANCE OF MANY OTHERS, TOO MANY TO NAME, YOU KNOW WHO YOU ARE.